-- SPECIAL REPORT --


Attention Women & Men Over 40...
IS IT ACTUALLY POSSIBLE TO
Latest Science Uncovers How to Incinerate Fat and Sculpt Lean Muscle and Reverse The Aging Process... Just by Thinking Differently!
We know it sounds impossible - even ridiculous! But hear us out, the truth might just surprise you...
and change your life forever.
Here are 4 things you should already know:
1. WE KNOW: Almost any diet can help you lose weight. However, most diet approaches FAIL to produce the desired results. WHY? Because most of us "cheat" too often or don't stick with it long enough. WHY??
2. WE KNOW: Exercise can have enormous metabolic and health benefits. However, exercise alone doesn't work for creating a lean tummy and butt. Why? Because most of us, especially as we age, are inconsistent and lack the needed intensity. WHY??

3. WE KNOW: Weight gain, loss of muscle, reduced energy and lowered libido is a completely avoidable part of the aging process. Why? It's not built into our DNA, but rather the result of damage and oxidized DNA - 90% of which can be avoided.[30] But, it typically won't be! WHY??

4. WE KNOW: The mainstream media and diet & weight loss industry big shots want us to believe they have all the solutions. Why? The next BIG THING sells. WHY??

Here's something you may not know:
The ANSWER to WHY, WHY, WHY and WHY comes down to a very specific [MINDSET]...
It's how this 455 lb disabled firefighter lost 231 lbs and transformed himself...
To a stealth 224 lb real life hero, actor and motivational speaker...
Just by changing the way he thinks!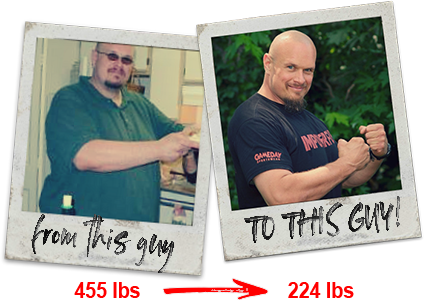 Let's face it, getting older sucks! If you have begun experiencing the sudden signs of premature aging, weight gain, reduced energy and sex drive, and a serious loss of muscle, then this extremely pertinent information is something you must absolutely MUST READ NOW!
That is, if you want to radically change the direction your body is suddenly and rapidly headed.
You're about to discover how two of the world's top fitness and peak performance experts exposed the

#1 REASON (by far) why most people struggle to keep the weight off...
...Even if you're already on a strict low-fat diet and doing tons of cardio!
It's also the #1 REASON you're feeling 10-15 years older than you should...
It's the missing piece of the puzzle when it comes to figuring out...
WHY ALL DIETS and EXERCISE PROGRAMS you've tried in the past HAVE FAILED!
Without being overly dramatic...
If you don't FIX IT (RIGHT NOW), statistically, you'll likely NEVER lose the ever increasing layers of unwanted body fat and will continue to experience all the pain and frustration that comes along with it - no matter what diet and/or exercise program you're on.
This doesn't have to be your fate, but you do need to take action before it's too late.
We ask you to set aside your skepticism or doubts and consider that there are new possibilities for you - backed by science and in-the-field experience...
We have coached it to thousands people, just like you, for the last 35 years.
COULD IT REALLY BE THAT SIMPLE?

Could Losing The Unwanted Weight, Looking & Feeling 10 Years Younger REALLY Be As Simple As Changing The Way You Think?
What does the

"MIND-BODY GAP"

have to do with YOU
losing the weight and looking & feeling years younger?
Isn't it really about diet and exercise... and being even more disciplined and diligent?
IMAGINE IT LIKE THIS... You're ready to take a fun road trip with the family. Your bags are packed, the car is fueled and you're ready to go...
There's only one problem...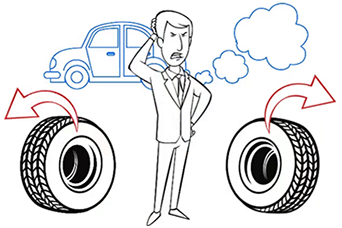 A BIG PROBLEM: The front wheels of your car are facing in opposite directions - One wheel wants to go right while the other wants to go left.
No matter how much you gun the engine, scream, and yell and wish you were there already...
You are not going anywhere.
YOU'RE STUCK!!
It's exactly like that with your
MIND and BODY!
You want to be fit, lean, sexy and vibrant AND may even be working HARD on it...
But, if your mind and body aren't in exact alignment... YOU ARE NOT GOING ANYWHERE - No matter how hard you work, diet and train.[PERIOD]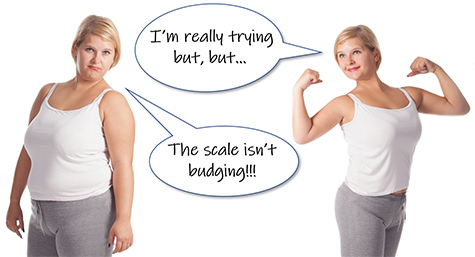 We've discovered  that this "MISALIGNMENT" is the BIGGEST OBSTACLE you will ever face when it comes to controlling the destiny of your own body...
AND WHY you will continue to gain weight, watch your hips, waist, and butt EXPAND and look and feel years older than you really are.
Now, here's YOUR OPPORTUNITY to discover how to easily align "the outside with the inside" for extraordinary results faster than you ever thought possible.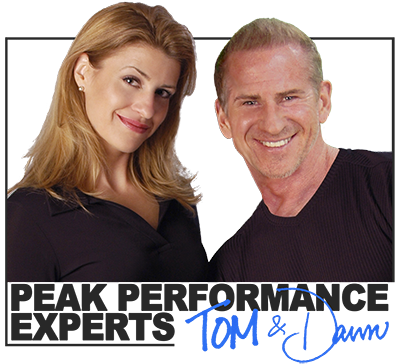 We're Tom & Dawn Terwilliger
Even though we're award winning bestselling authors and recognized as two of the world's top fitness, peak performance and mindset experts, we are just like you, a work in progress and always under construction.
Finding alignment has made that work much easier, almost effortless and far more rewarding.
After 26 years of marriage and 35 years transforming thousands of lives...
...We know exactly how to align mind AND body for extraordinary results.
I've competed and won, at the highest levels of physique competition, including twice in the Superbowl of bodybuilding, the Mr. Olympia competition.
Not to mention winning the coveted Mr. America title.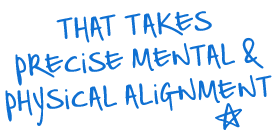 I've also had the opportunity to work with celebrities such as Regis Philbin, Cindy Crawford, Eddie Murphy, Gregory Hines, and Howard Stern.
My wife, Dawn is an Exercise Physiologist and Psychological Kinesiologist and an in-demand certified personal trainer and coach to celebrities, models and professional golfers.
Together, we've been featured in DOZENS of fitness books, magazines and videos, hosted TV shows on Fox Sports Net and ESPN...
Most importantly, we've helped THOUSANDS of committed women and men, just like you, produce ASTONISHING results in their lives and with their bodies.
The real difference is MINDSET.